Amico's Pizza kitchen staff did double duty in the heat of July and August 2017 when they donated meals and prepared 'Supermodel Survival Packs' in connection with two national level beauty pageants.  Delegates participating in the 2017 Search for Miss World Canada and the 2017 Search for Miss Teenage Canada went a little less hungry thanks to the chef and his passion for portable food.
The 2017 Search for Miss Teenage Canada enjoyed Amicos Pizza Supermodel Survival Packs at their hotel headquarters in North York. These handy nourishment containers came in two flavours; 'Protein Power' and 'Vegetable Overload' together could replace a meal. Both packs really hit the spot, especially during dance practice.
Here are the 'Vegetable Overload' type MTC 2017 Supermodel Survival Packs that were made and donated by some local grocery stores who were also sponsors. They made these up to feed the girls during their long hours of rehersals. The stickers were printed by Sign Source Solution in Vaughan and applied to the plastic vessels as they were filled with fresh produce.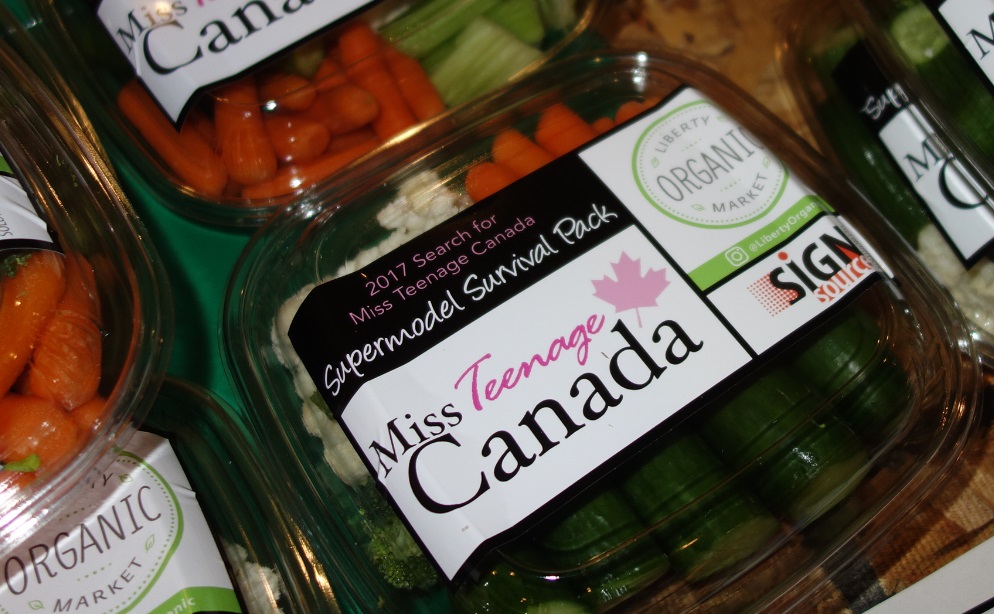 All together over two hundred and fifty Super Model Survival Packs were made and distributed to the delegates of both pageants. The packs made by Amicos had one hard boiled egg alongside two sticks of Cheddar cheese and soft Greek style pita bread with red seedless grapes and fresh cut English cucumbers. The packs below were from local grocery stores and had broccoli, cauliflower, baby carrots, and cucumber and came with dip (Ranch dressing). Together the two packs could replace a meal. The delegates devoured a couple hundred of these packs while practicing for the final dances and they took whatever was left over to munch on later in their rooms.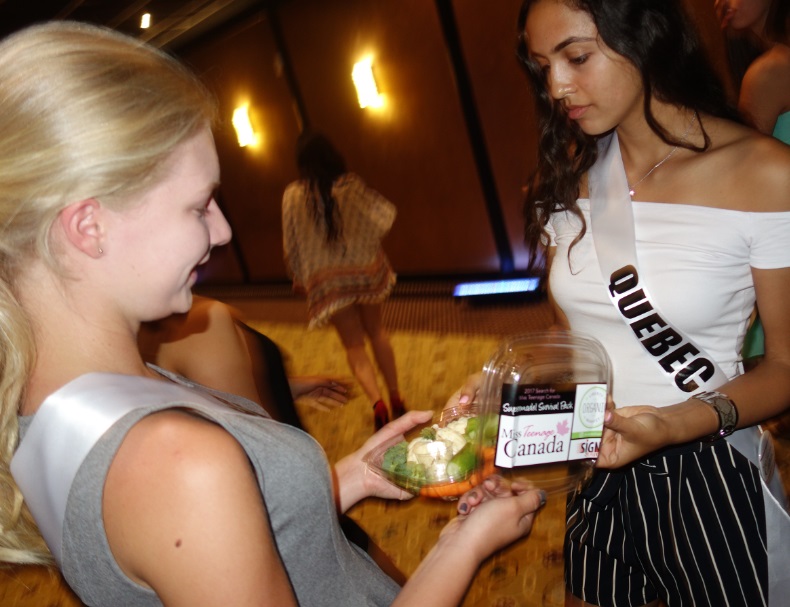 Supermodel Survival Packs offered delegates healthy food options, anywhere and at anytime!
Miss World Canada distributed their Supermodel Survival Packs to delegates on 18 July Fitness Day at a health club. Mayfair Clubs Lakeshore has a healthy bistro and they supplied lunch. But after all the exercise and all the girls swimming in the saltwater pool recording their #SaltwaterSelfies the meal was appreciated and became necessary 'bus food'. It was enjoyed enroute to the next event and it you've ever experienced one of these things then you'll know there's always another event. *After the pageant finale there was an after-party at REBEL and then another party after that.
To get a glimpse of what actually happens during a beauty pageant's 'experience week' take a look at the media made by Cognition Video Production Company in Toronto who captured the mood in a ninety second sizzler showing all fifty seven ladies out on the lake.
The video showcases over a hundred moments and nicely encapsulates the entire expedition from boarding to disembarkation at 2:30 pm on a cruise aboard Mariposa Cruises vessel Oriole.
Dance practice happened all week long in the hotel ballroom, with new steps and sometimes whole new numbers being learned everyday. With all this daily excitement, its especially important for delegates to eat healthy meals and stay strong – Amicos' Pizza is here to support all aspirations toward greatness and gourmet lifestyle.